The Willoughby Dental Centre team are caring, dedicated individuals who understand the importance of listening to patients and delivering high quality results.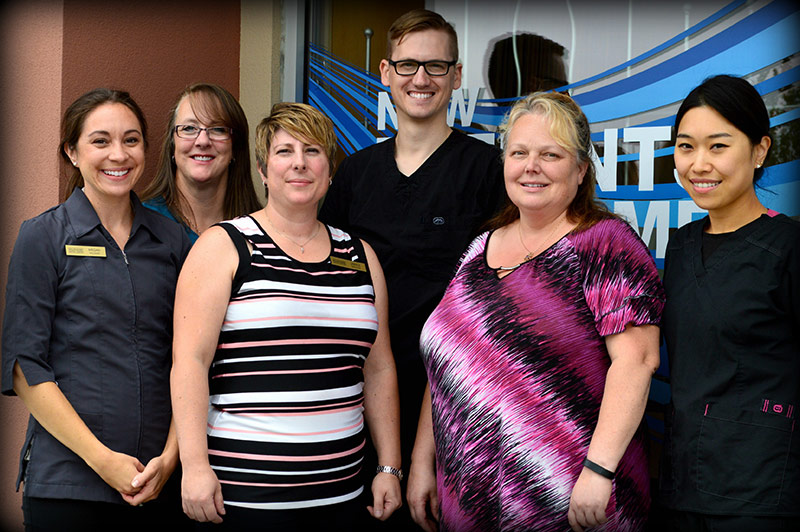 Dr. Alson Robson, General Dentist
Graduated 1998 w/ Honours – Dalhousie University Faculty of Dentistry
Dr. Robson came to dentistry the way many Canadians do; he lost a tooth due to hockey injury in his youth, which lead to multiple dental interventions. This early exposure lead him to the profession. His personal experiences, he gained a profound understanding for his patients' therapeutic experience and empathy of the anxiety they can suffer from.
He is a conservative dentist who is well versed in all aspects of the field. He enjoys cosmetic dentistry and the challenge of endodontics.
His patients love him for his easygoing demeanour and gentle touch.
Dr. Tony Gill, General Dentist
Dr. Gill has done much to assist in educating the public about dentistry, from being a featured guest on numerous radio and television talk shows to creating and hosting The Dental Show, a radio call-in program in Vancouver. He has been and continues to be an adviser, clinical tester and consultant for selected dental laboratories and dental materials companies. He is a technical adviser for dental office software.
Dr. Gill has been performing difficult cosmetic and surgical cases since 1996, combining his expertise in orthodontics, restorative & cosmetic dentistry and implantology to create natural smiles. Dr. Gill has worked with 11 different Vancouver and Lower Mainland dental offices last year, performing extractions as well as placing implants, bone grafting and assisting dentists in learning about new implant and restoration techniques.
Dr. Gill has been working with implants since 1993 and has taken many lectures and hands-on courses on implants, surgery and bone grafting, travelling to the US and to Germany to study with Dr. Paul Weigl at the University of Frankfurt School of Dentistry.
Dr. Ebin Thaliath, General Dentist
Dr Ebin Thaliath is a D.M.D graduate of UBC Dental School (D.M.D 2016). He first qualified as a dentist from Mangalore University, India in the year 1999. In 2002 he completed his Specialty in Endodontics. Thereafter he completed his MSc from Kings College, London and is a Fellow of Royal College of Surgeons Of England. Dr Thaliath has a keen interest in Root Canal Treatment. From 2003-2014 he had a practice limited to the specialty of Endodontics with Ministry of Health, Kuwait. After graduating from UBC he continues to devote most of his time doing Root Canal Treatments. In his free time he enjoys spending time with his family and travelling.
Dr. Stefan Caney, General Dentist
Dr. Stefan Caney was born in Vancouver but grew up in Ecuador from a young age. He returned to Canada to carry out his post-secondary studies where he worked with adults and children with ADHD, carried out clinical research with patients with Parkinson's Disease, and received his degree of Doctor of Dental Medicine from the University of British Columbia. 
Dr. Caney makes it a high priority to have a straightforward conversation with all of his patients to make sure they understand their options and help them make the most appropriate treatment choice. Learning about various new technologies in dentistry through continued education is a focus for Dr. Caney as they can make a patient's experience in the office more comfortable, help them better understand their oral health, and provide better results.
Dr. Harvinder Singh, General Dentist
Dr. Singh, born and raised in Abbotsford, completed his studies at the Boston University Henry M Goldman School of Dental Medicine. A brief amount of time was spent gaining experience in Boston, followed by a recent move back home to further his dental career.
In addition to practicing general dentistry, Dr. Singh has also achieved a postgraduate certificate in esthetic dentistry completed at the State University of New York at Buffalo. He is strongly committed to offering patients with the most up to date dental care and plans to further his knowledge by joining a study club and taking various courses such as Implants, Bone Grafting, and Nitrous Oxide. Dr. Singh enjoys continuing to learn throughout his career and has studied all aspects of dentistry at locations throughout Canada and the United States as dentistry continues to evolve.
Dr. Singh has been married to his wife for four years and together, they have a soon to be two-year-old son who keeps them very busy. Aside from dentistry, Dr. Singh enjoys watching hockey and football, and traveling with his family.
Dr. Kodem, General Dentist
Dr. Kodem first graduated from the prestigious N.T.R. University of Health Sciences in India in 2011. After practicing General dentistry in a Cosmetic Dental clinic in India, he moved to Canada where he successfully completed Canadian Dental Licensure exams.
He has constantly updated himself with modern dental practices and techniques through continuing dental education programs. He is an active member of Canadian Dental Association, BC Dental Association and College of Dental Surgeons of BC
Dr. Kodem has good experience in dealing with anxious patients, he is a very gentle and caring professional who loves to educate his patients regarding preventive measures and treatment plans. He is always looking to help the community by providing emergency dental services at Vancouver Native Health Society.
In his free time, he likes spending time with his wife, travelling places and playing badminton.
Willoughby Dental Professional Team
Come meet our experienced dental and administrative team that is dedicated to providing exceptional service and patient satisfaction.  Our team's goal is to help you maximize your dental potential, and we'll assist in every way, whether it's through creative scheduling, answering dental insurance queries, or taking the time to ensure that you understand your treatment options.
Our Staff
Hailey, Manager
Anita, CDA
Meena, CDA
Alina, CDA
Marilou, Hygienist
Jenny, Hygienist
Maribel, Hygienist
Sarah, Receptionist
Ginny, Receptionist
Willoughby Dental Centre is proudly owned by Dr. Alson Robson, Dr. Edmund Wong, Dr. Amin Shivji, and Dr. Gheith Ben-Khaial.
Request An Appointment With Your Local Dentist in Langley